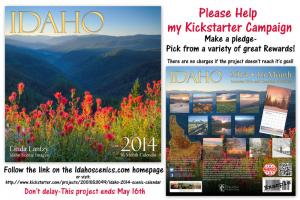 ~The Project~

Idaho Scenic Images is seeking advance funding to publish its popular Idaho state calendar. "Idaho" is in its 6th year overall and its second year available at retail outlets throughout the state. It is a 16 month, professional-quality, full color, 12x12 wall calendar, and will be available to retailers, and to consumers via www.idahoscenics.com.

As a professional photographer, Linda has been photographing and compiling a wide variety of compelling and dynamic images. One of Idaho's most popular and prolific photographic landscape artists, her work has wide appeal and is found in galleries, shows, medical, government and financial institutions as well as corporate and private collections.

The goal of this Kickstarter project is to raise funds to help produce these beautiful calendars. Printed in the USA, these calendars are attractive not only visually, but also economically.

Please view the project and consider a pledge of...